U.S. Army Communications-Electronics Command History Office
I: Signal Corps, Radio Research & Development Laboratory at Fort Monmouth - 1917-1962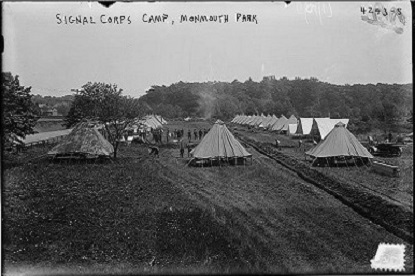 The Communications-Electronics Command (CECOM) can trace its roots to the establishment of a Signal Corps training facility and radio research and development laboratory at Fort Monmouth, NJ in 1917. The installation was granted permanent status and was renamed Fort Monmouth in August 1925. It was named in honor of the soldiers of the American Revolution who died in the battle of Monmouth Court House. Serving as the "Home of The Signal Corps," Fort Monmouth was a major Signal Corps training site during World War II, and the scientists of the Signal Corps laboratories, developed, among many other things, the first U.S. aircraft detection radar. Personnel also proved space communications feasible in 1946 when the Diana Radar bounced electronic signals off the moon.
II: Electronics Command (ECOM) to Communications-Electronics Command at Fort Monmouth - 1962-2005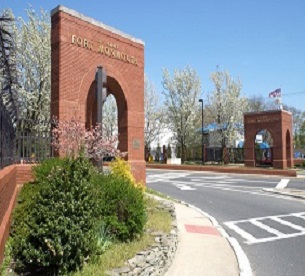 The Army disbanded the technical services and established the Electronics Command (ECOM) at Fort Monmouth in 1962 as a subordinate element of the newly formed Army Materiel Command. This CECOM predecessor was charged with managing Signal research, development, and logistics support. ECOM was fragmented in January 1978 on the recommendation of the Army Materiel Acquisition Review Committee (AMARC) in order to form the following three Commands and one Activity: The Communications and Electronics Materiel Readiness Command (CERCOM), the Communications Research and Development Command (CORADCOM), the Electronics Research and Development Command (ERADCOM), and the Avionics Research and Development Activity (AVRADA). Reassessment of the changes at Fort Monmouth, begun in August 1980, concluded that, while the emphasis on research and development had increased for the better, there was also much duplication of effort. Thus, on 1 March 1981, AMC combined CERCOM and CORADCOM to form the new Communications-Electronics Command (CECOM), effective 1 May 1981.
III: CECOM and C5ISR Community to Aberdeen Proving Ground, Maryland – 2005-Present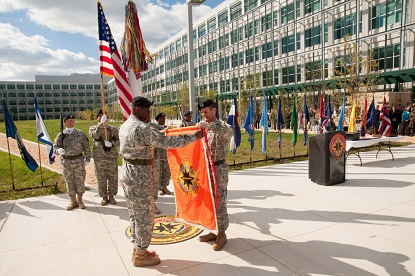 In 2005, BRAC ordered the closure of Fort Monmouth and the relocation of CECOM and what was called the C4ISR Community to Aberdeen Proving Ground (APG), Maryland. The CECOM flag was cased at Fort Monmouth on 10 September 2010. Comprised of five sub-commands, the Software Engineering Center, the Integrated Logistics Support Center, Information Systems Engineering Command, Central Technical Support Facility, and Tobyhanna Army Depot, as well as the headquarters, CECOM officially uncased its colors at APG in October 2010. Along with its people, laboratories, and equipment, CECOM transitioned its long history and heritage to APG, where it continues to empower the Soldier through sustained C5ISR readiness. Anytime. Anywhere.
Contact the CECOM historians at:
---
OUR MISSION
Preserve the history of the C5ISR Community, and give all members a sense of heritage, honor, pride and belonging.
---
OUR VISION
Celebrate the individuals who enable C5ISR readiness.
---
COMMAND INFORMATION
CECOM Headquarters is located at:

6585 Surveillance Loop, Building 6002,
Aberdeen Proving Ground, Maryland 21005