Publications
CECOM Dash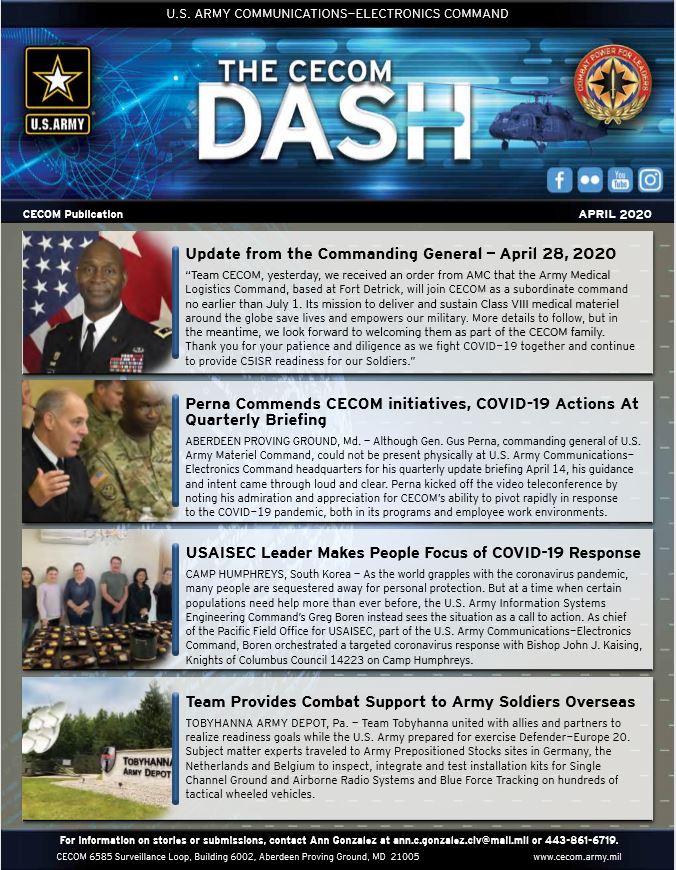 The CECOM Dash is the command's monthly newsletter, featuring the latest news and noteworthy events taking place across CECOM and the Army.
Download Latest Issue
DASH Archive Page
CECOM Fact Sheet
The CECOM "At a Glance" fact sheet outlines the command's mission and vision, major subordinate commands and centers, and how we support readiness.
Download
CECOM Focus
The CECOM Focus is the command's annual guidance document that outlines critical priorities and focus areas for the coming year and beyond. The Focus articulates how the command will succeed in its mission to empower the Soldier through sustained C5ISR readiness, anytime, anywhere.
Download
CECOM Human Capital Strategic Plan 2019-2020
The CECOM Human Capital Strategic Plan outlines how the command will invest in its workforce and cultivate a trusted team of professionals who are diverse, equipped, and resilient to support our Soldiers and Army readiness.
Download
CECOM Empowering Strategic Support Area Readiness
The joint force is preparing for large-scale combat across land, sea, air, space and cyberspace. Under the Multi-Domain Operations concept, Army Materiel Command has reorganized and reshaped to ensure readiness of the Strategic Support Area, where military might is generated, projected and sustained during the fight. This four-part article series outlines how CECOM is contributing to Strategic Support Area readiness in four focus areas:

Supply Availability and Equipment Readiness
---
MISSION
Empower the Soldier through sustained C5ISR readiness. Anytime. Anywhere.
---
VISION
Enabling lethality is our business. Our bottom line is the Soldier. We do what is best for the Soldier in the fight.
---
COMMAND INFORMATION
CECOM Headquarters is located at:

6585 Surveillance Loop, Building 6002,
Aberdeen Proving Ground, Maryland 21005